I've lost count now of the number of times I've sat here in my office, typed this up, retyped and walked away. Everything I type feels redundant and never says quite what I'm trying to say. It's been 5 years today! FIVE YEARS! Since I walked my butt into the County Clerk's office filed my business name, applied for my seller's permit then hoped and prayed this adventure would work.
I was so scared. Nervous. Ready. I've learned so much over these 5 years. About business, people, photography. I learned the most about myself though and that has been so huge in bringing me to this point. I found my voice and purpose through imagery. My introverted, quiet, pajama loving, stay-at-home self broke out of her weird shell.  Well, I'm still weird. I just share it with all of you now ;)
I've photographed your weddings, anniversaries, life milestones, your new babies, and your grown babies. I've taken your workshops, listened to your valuable advice, and leaned on your shoulder. Family, friends, photographers, clients & admirers; you've supported me by  encouraging me to keep going, by teaching me along the way, listening when I needed it most, pushing me to do more, and trusting in me to photograph your biggest moments. I remember reading in my first years of business a statistic that read something like "95% of photography businesses fail within the first 5 years." That has always echoed in my thoughts, kind of like a small fire under my feet to keep me running hard. I have no idea what the future holds and I like it that way, but right now in this moment? I feel like "OMG!! I kicked those first 5 years' butt!" So I want to celebrate with all of you. My family, friends, photographers, clients, because you've helped me get to where I am today and I cannot WAIT for the next 5 years with you!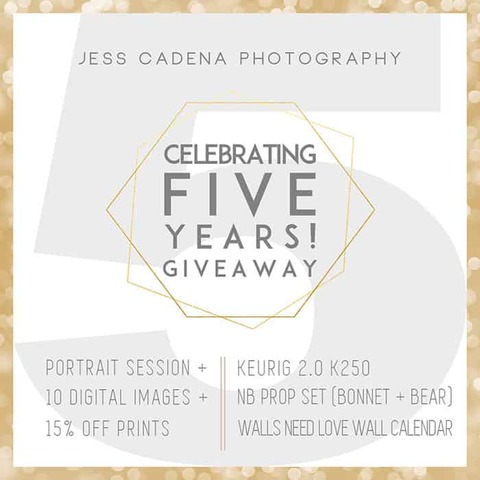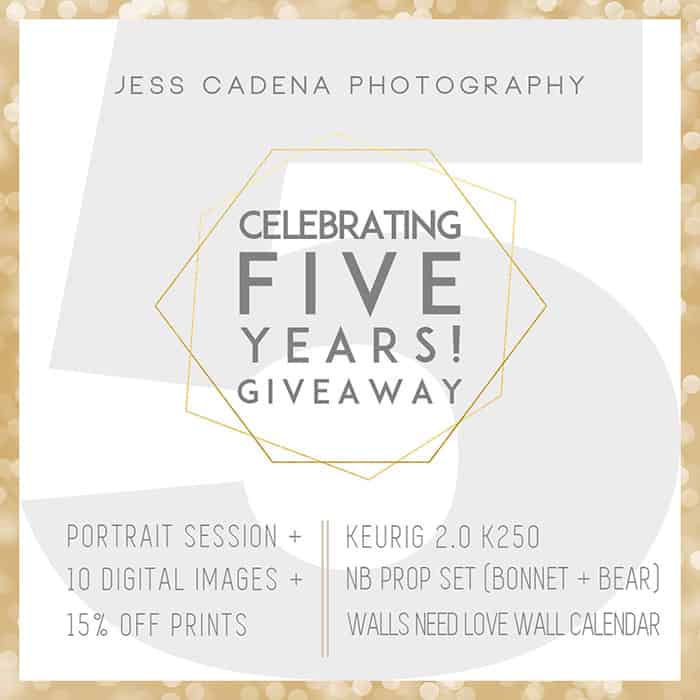 I want to celebrate by giving away a few things that I love and/or cannot live without! I invite everyone to enter, some prizes are restricted to US or to Bakersfield. Restrictions are listed next to each prize.
---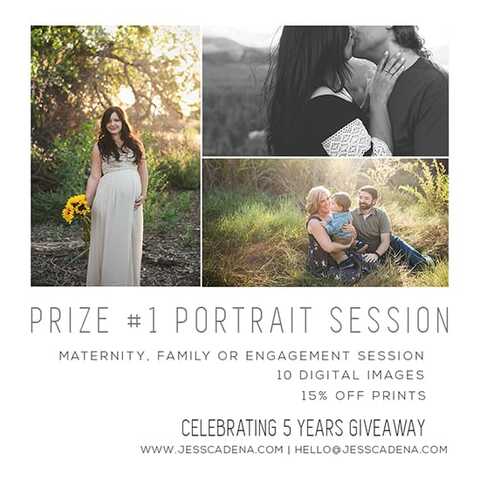 Prize #1
1 Winner has a choice of Maternity, Family or Engagement Session. Includes 10 high-res digital images on USB + 15% off if you choose to purchase prints.
•Session is limited to the Bakersfield area. Must be redeemed before 12/10/15.
---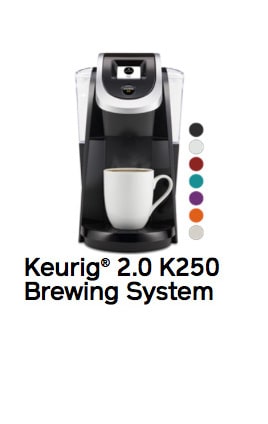 Prize #2
Something I cannot get through my day without! I have 1 Keurig for home & 1 for travel. I guess you can say it's pretty serious.
1 Winner will receive a Keurig 2.0 K250 Brewing System in their color choice.
(In order from top to bottom: Black, White, Strawberry, Turquoise, Violet, Orange Zest, Sandy Pearl)
Includes:
•Keurig® Carafe
•6 K-Cup® Packs
• 4 K-Carafe® Packs
•Water Filter Handle & Cartridge
* This prize is restricted to the US for shipping purposes. Keurig ships to you directly from Keurig.
---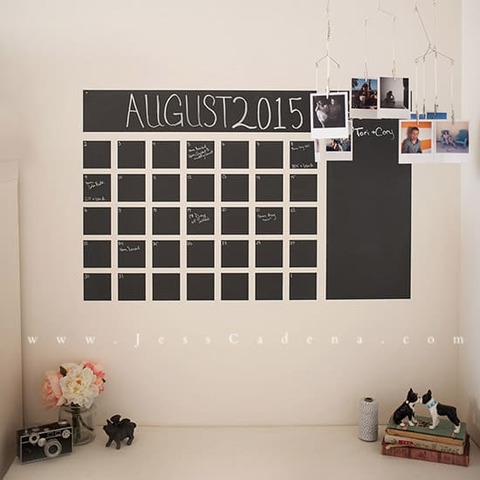 Prize #3
My life revolves around my calendar.  I have 3 calendar systems and this one is my favorite because I can walk into my office and immediately see what I have coming up. It's a chalkboard wall decal that is easily applied to your wall of choice. I use chalk pens to write in all my events.

1 Winner will receive a chalkboard wall calendar from Walls Need Love. They have so many fun wall decals too! I have tiny gold anchors in my guest bathroom that's decorated in Pirate & mermaid theme.
Looks like Walls Need Love is having a sale on their entire site too! Use code Backt0Sch00l20 at checkout and receive 20% off anything on their site!
*This prize ships to US & Canada
---
Prize #4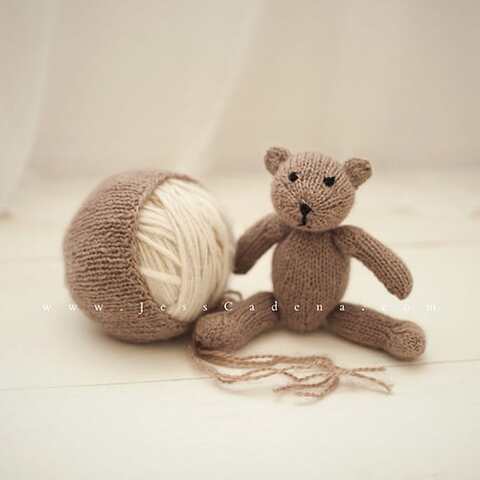 When I'm not photographing weddings or newborns, I spend my time knitting. I'm a fiber freak and love quality yarns that are soft to touch and yummy to snuggle ♥ You can find my knits for sale in my Etsy Shop, where I knit bonnets, wraps & props for newborn photographers.
1 Winner will receive a Newborn sized Bonnet & Bear prop set for their newborn prop collection. Winner will receive the set pictured.
* This prize ships world-wide!
---
How to Enter
Each counts as an entry and you can earn entries each time you do the following:
1. Comment below telling me which of the above you would like to win.
2. Find the post with the contest info on my Facebook Page, share the post (privacy settings must be set to "public" so I can confirm you've shared!) on your page/profile + follow my Facebook updates by clicking "LIKE".
3. Visit me on Instagram, find the post with the contest info & comment which prize you'd like to win & tag a friend + follow my Instagram updates by clicking "FOLLOW".
The Fine Print
This giveaway is not sponsored, all prizes are paid for and provided by Jess Cadena Photography. Prizes are not redeemable for cash and are non-transferable. Giveaway starts August 10th, 2015 and ends August 16th, 2015 at midnight PST. WINNERS will be selected via random drawing & will be named on Tuesday, August 18th on this post, on Facebook, & on Instagram. Prizes must be claimed within 24 hours. Unclaimed prizes will go to the next drawn name. Please check back on Tuesday to see if you've won!
---
WINNERS ANNOUNCED!!!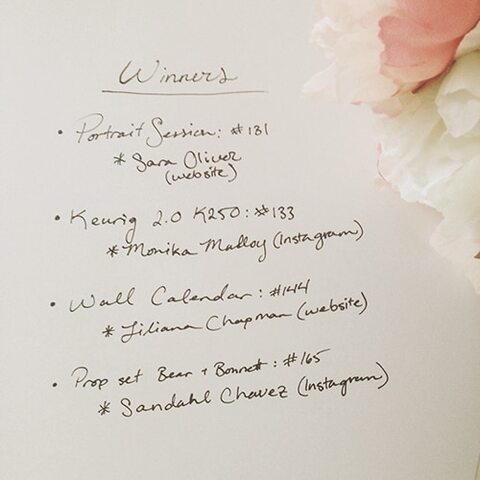 Every time you shared/commented/tagged/etc I wrote your name down for an entry. Some of you had almost 20 each! Thank you SO much for celebrating with me. 5 years feels like a pretty big deal to me and I look forward to what the future holds in this adventure with all of you! Winners, you have until Wednesday, August 19th at 9am to get in touch to claim your prizes (if you see their name, be sure to tag them!). Unclaimed prizes will call for a re-draw. Please email me at hello@jesscadena.com so I can gather your info and send your prizes your way!
•Portrait Session: Sara Oliver
•Keurig 2.0 K250: Monika Malloy
•Walls Need Love Wall Calendar: Liliana Chapman
*Newborn Prop Set Bonnet + Bear: Sandahl Chavez