Photographer's busiest season is upon us. We're preparing our schedules for the masses of families wanting to update their family photos to send out with their Christmas cards. As if planning for your family session isn't stressful enough with choosing a photographer that fits your needs, coordinating your outfits, confirming schedules back and forth, there's also that whole…
"OMG, I hope my kids [and husband] behave long enough for at least one nice photo to send to Grandma & Grandpa."
Be honest, that's the most stressful part right? It is for me. It's a pretty common thing for photographers too. We call it Photographer's Child Syndrome or PCS, and all of us are certain that it's a real thing. We fully know that even the mentioning of taking a photo of them results in meltdowns, grumpy faces, and even complete refusal. It's an effect of overexposure to being photographed since the beginning of their lives.
Can I give you a quick synopsis of how my own family sessions went down?
1. Prepare children [and husband] for session. Get them excited, and explain that they're to be on their best behavior. That if they do a good job, it will be done sooner.
2. Arrive at location dressed in outfits I've meticulously planned for weeks.
3. Chit chat with photographer for a few moments, get the kids warmed up to them.
4. High-scale meltdowns of all unholy greatness.
Sitting on the other end of the camera all I could do was feel embarrassed, exhausted, stressed. I prepped them! I mean I'm a photographer, I know, the kids know. WE ALL KNOW what's about to go down. Why is it so hard?! After it's all said and done, the sweat is rolling down my neck and I'm sure I'm so many shades of pink and the fumes are escaping from my ears, I'm just hoping and praying to all the positive forces in the universe that we'll get at least one semi-decent family photo I can hang above the mantel. Of course during the entire drive home post-session the kids are quiet & sleepy, you know, perfectly well-behaved. I take this time to reflect on my own experiences as a photographer and remember how many families have probably driven home completely stressed out and exhausted. This is supposed to be a fun experience right? What even happened to that?
First, let me stop you right in your tracks to say this. We're not judging your parenting tactics or your children's behaviors. Really. Some of us are parents too, our kids totally act out exactly when we don't want them too. It's normal and it's going to happen no matter how much you wish those meltdowns wouldn't. If you think for a moment about how nervous you are to be in front of the camera (we all want our hair to stay perfect, to look out best, etc.) think about your little ones and how they might be feeling. Your photographer is invading their personal safety bubble and the only way they know how to respond is with a case of the sillies, shyness, and sometimes a few tears. We're prepared for it. We come ready to go with our best and sometimes extremely ridiculous moves to keep your child engaged, happy and comfortable.
So how can you make sure to keep your family session a little less stressful? Do exactly what you're doing already! Dang, it's so easy right? Keep preparing your children. Tell them what is going to take place, who your photographer is, and how you expect them to behave. But allow them to still be themselves, happy, silly, shy. Whoever they are. Take comfort in knowing that your children are going to take some time to get comfortable. It isn't a race and we're not going to rush them. I want you to remember this as well; we want to capture that perfect family photo with everyone looking too, but we also want to get the in-between moments when your child is running free soaking up the sun and being themselves. We love those moments! Most importantly, those are the moments that you'll look back on and you'll see the genuine and unforced smiles and excitement. We want that for you ♥ Those are the moments that get our creative minds going and it's like gold glitter bursts from the sky making everything perfect. (P.S. I love gold glitter)
So before I wrap this up, I do want to leave a few  tips on things not to do.
1. Cheese, leave it at home in your fridge where it belongs. Let us do the work of keeping everyone's attention. When your child is being asked to sit still and be good, and has four different people telling them to "Say cheese!" they have no idea where to look and we get a forced "cheesy" smile. It's pretty stressful for them too and is the perfect cue for meltdowns. So no cheese, okay?
2. Threats, they're no good. They're scary and again, trigger meltdowns. If your little one starts acting up, no worries! I'll put my feelers out for their personality and address them as best as I can to keep them happy. Bribes are not threats. Don't confuse the two, I'm not above bribing when necessary! Plus who doesn't love ice cream after all that hard work? Bribes are awesome!
3. Really, I only have those two tips above. Because all you need to do is let go of your expectations and allow everyone to be themselves. Let them be silly, funny, shy, and explore their surroundings. We'll handle the rest.
And seriously, I have proof of all of this because dudes… my kids were prepped beforehand and went totally crazy. I was absolutely sure that my sweet, patient friend Erin Pasillas was checking us off on some sort of photographer's secret blacklist. Instead she made me cry. Even through all the chaos, these are the beautiful moments she gave me. They're sitting over my mantle now. I get teary-eyed and overjoyed every time I look at them. It's my favorite room in my house to sit in because of these photos and memories. A totally un-rehearsed moment and it couldn't be more "us" or anymore perfectly beautiful.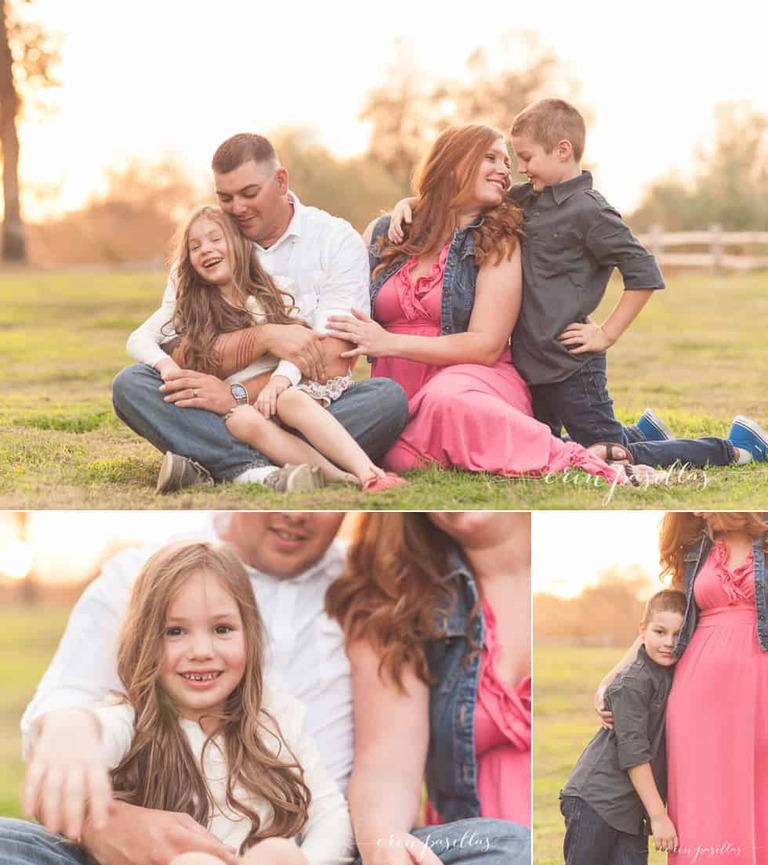 And just in case you don't believe that my kids were total buttheads, yes they were. Mhhhm. But I still love these moments too because it's 100% honest. These are my babies and I love them for all that they are, even their crazy personalities ♥

… and those perfectly imperfect moments lead to this moment. My heart is complete.